A formal night out that requires a dress code is never complete unless you are wearing one of the following banana hammock tuxedo underwear. Tuxedo underwear are a great fun way to spice up your relationship with your partner. You will definitely want to buy one of the following underwear whether you are looking to renew your vowels in a fun way or looking to dress up and stand out from the crowd.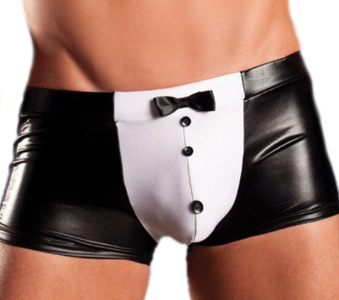 LoveFifi Lingerie manufactures some amazing looking and comfortable male underwear. This boxer brief is made from 95% Polyester/5% Spandex and will give you that sleek sexy wet shiny leather look. The pouch enhances your member and provides the comfort that is required for a long night out. The cute bow tie and buttons give it the ultimate elegant look. Your partner will be excited to rip them off!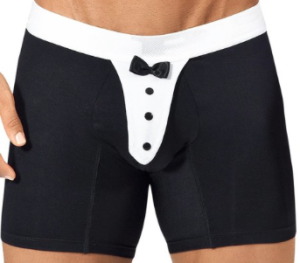 This cheeky designed boxer brief is made out of 93% nylon and 7% spandex stretch micro fiber fabric. It features a bow tie at the top and buttons. The contour pouch helps to define your member as well as provide the ultimate in comfort. The material is ultra stretchy which ensures that your butt will sit nicely in them and form a comfortable fit.

This PPU mens thong is for my more adventurous friends out there who want to surprise and shock your audience. The material and pouch of this thong holds your member comfortably even when the excitement starts to get heated. The back part of the thong is typical of any male thong and will sit like floss. Your partner will love to see you sporting a pair of these thongs and I'm sure your night will end with a happy ending!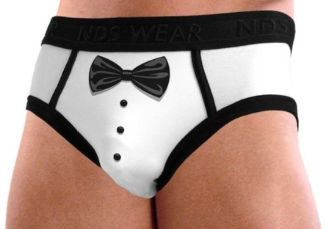 This quality mens brief underwear looks and feels amazing. It is made from cotton and spandex and features a larger than normal waist band that ensures you get that thick look. The bow tie and button graphics look great and help to enhance your package.
By Matt Collins