By Matt Collins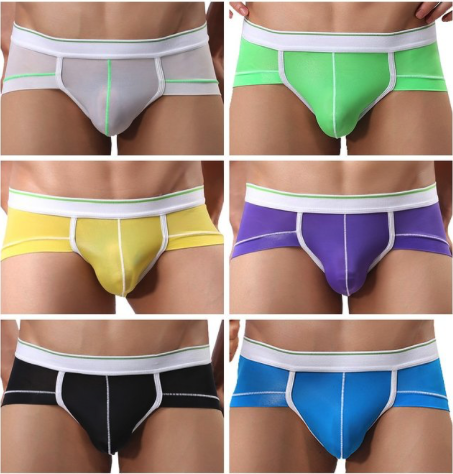 Comfortable, stylish and priced  just right! Finally a Banana Hammock that fits all of these criteria! Kayizu comfortable and cool briefs are a must buy if you are looking to put yourself out in style and show off your goods!
Designed to put your manhood on show this sexy brief is very comfortable to wear all day long. The high quality material feels soft and very breathable which is great for work or play. The fabric is stretchable but does not cling to the skin and retains its shape. The overall design is risky but be assured that this pair of sexy underwear is smoking HOT and will enhance your sex appeal! Overall we were very impressed with this pair on mens underwear and for the price you will just have to order them!
We ordered a 6 pack of Kayizu comfortable and cool briefs and got to try on all of the different colors (Black/Blue/Purple/Yellow/Green/White) that are currently available for sale. The light weight material felt comfortable to wear and the waistband held up well. We noticed that the material was stretchy which added to the comfort level after wearing them for a couple of hours. When we tried these on for the first time we noticed that our manhood was proudly on display and felt very comfortable. We found that the white color underwear was more suited for 'putting on a show' or wearing them while performing with your partner.
The design is perfect for whenever action is required as you are ready to go whenever your partner is in the mood!
We would highly recommend them for everyday wear as your banana is supported in a hammock. Great for the gym and casual wear.
The price of this underwear is cheap and the pleasure and fun you will get out of them is well worth it! Be sure to check out the correct size available to purchase using the link below. They are available in Black/Blue/Purple/Yellow/Green/White.
With a high rating of 4 out of 5 from over 130 reviews; you will have to try on a pair for yourself to see and feel the results.
We bet that you'll be showing off in front of the your partner with this delicious looking pair of underwear!
Product Information: Kayizu.
Product Style: Briefs.
Product Material: 93% Ice Silk, 7% Spandex.
Size Available: Check available sizes via link above.
Design Color: Black/Blue/Purple/Yellow/Green/White.
Rating: 4/5 (130+ Users).
Price: $