By Matt Collins


Do you want to stand out form the crowd in a hot Yellow Banana Hammock? Banana Hammock World is here to make your life easier. We have found 3 of the best yellow banana hammocks that cater for every man that is looking for a comfortable and yet enhancing pair of men's underwear or swimsuit. Take a look at our hot picks below.
Andrew Christian Yellow Banana Hammock Color Vibe Brief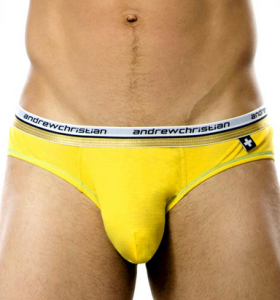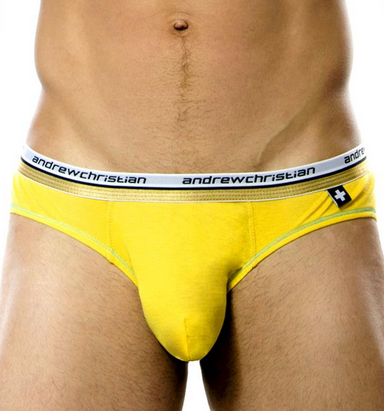 We have reviewed Andrew Christians Color Vibe Briefs in one of our earlier posts on this site because their products deserve to be ranked very high on the list of the top yellow banana hammocks for men.  To hit the highlights of this great underwear, you know that the 100% cotton fabric is going to feel light and very comfortable giving you that great feeling of wearing nothing.
The underwear front pouch is designed for the male package to naturally slide into the pouch and provide support in the hang free design. There are no cups or extra padding to this underwear and the cotton is designed to eliminate sticking, squashing, re-adjusting, sweating and chafing that can occur with some underwear. If yellow is not your color then do not worry as the Color Vibe Brief is also available in some amazing hot bright colors.
With a high rating of 4.5 out of 5 from over 120 users you know that this quality underwear is a must try, so be sure to check out the full review.
Cover Male CM102 Yellow Banana Hammock G-String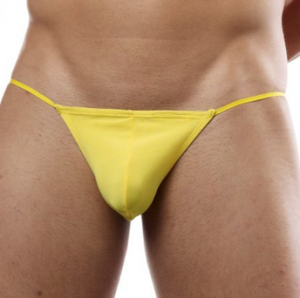 Cover Male produces some fun and hot looking male underwear. Their Yellow Banana Hammock CM102 G-String underwear is made out of 83% Polyester and 17% Spandex.
As expected from a high quality company, their design is comfortable and shows off plenty of skin while still providing support for your package as well as leaving that something to the imagination of your audience. The front pouch is designed to enhance the male package by bringing it forward and out.
When we tried on this underwear, our first reaction was that the material was super soft, light in weight and felt silky. Our package and assets felt free and the material is very breathable. When we tried on a pair of pants on, the g-string gave us the no line desired look that was expected. We felt super comfortable and we could easily wear them all day at work.
If yellow is not your color then do not fear as the g-string is available in some great looking bold and plain colors that include some sheer underwear colors. This g-string has been rated at a high 4.3 out of 5 from 20 users. Be sure to check it out today.
Gary Majdell Sport Yellow Banana Hammock Swimsuit Review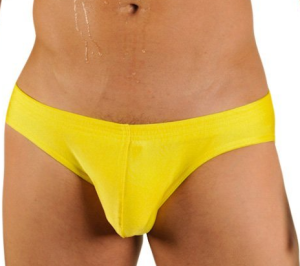 Gary Majdell Sport has some of the finest designs of men's swimsuits that appeal to both men and women. Their Contour Pouch men's bikini is made out of 80% Nylon and 20% Spandex. The bikini is designed with a super comfortable thick 1 inch waist band that ensures support and that the swimsuit will stay put after swimming around.
When we tried on the swimsuit in the office we noticed that it felt like underwear and not like a heavy pair of swimwear. The swimsuit also provided that highlighted package feature that all banana hammocks should produce. Although we didn't get to try this outfit on at the beach we can imagine how many great comments and envious looks that would come our way.
We thought that the outfit was priced really well and that the material and stitching was of a high quality for such an inexpensive item.
With a high user rating of 4.3 out of 5 from over 60 banana hammock lovers, you can be sure this is the ultimate yellow banana hammock swimsuit that you have been looking for. If your looking to sizzle this summer at the pool or beach then be sure to check out this fantastic banana hammock swimsuit today.
Yellow Banana Hammock Thoughts
Now that you have seen some hot and fun Yellow Banana Hammocks, which do you prefer? Please feel free to leave the team a comment below with your thoughts.
If you are looking for something different and fun for your partner then be sure to check out our great comparison chart of men's underwear and swimwear here.