By Matt Collins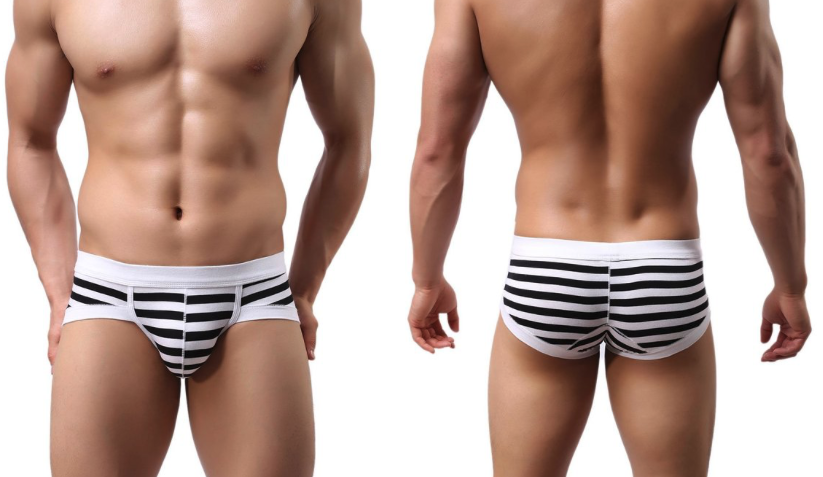 A Banana Hammock that is comfortable, sexy and cheap!? If you are looking for new underwear that looks great and doesn't cost much then you need to check out Voberry's Mens Sexy Stripe Briefs today!
The design of this underwear looks great and the fabric material feels extremely soft yet thick enough to last a long time. When we ordered a pair of this sexy underwear we couldn't wait to try them on and we were very impressed with the quality. The design of this underwear puts your manhood on show in a nice and presentable neat package which will surely impress your partner.
We got to try out a pair of both the black and blue ones that are currently available for sale. They are extremely comfortable and we wore them for a full day with light to heavy activity and didn't have any uncomfortable experiences. The light weight feel and  material are very comfortable to wear and the waistband sits nice and snug. We would recommend them for everyday wear as your banana is very well supported in a hammock.
One thing we did try was swimming in them! That's right we decided to try them out at the beach and were pleasantly surprised that you can get away with using them as a bathing suit.
The price of this underwear is cheap and initially we were a bit skeptical with the price of these underwear. Overall we are pleased with them and they have given us pleasure and fun – totally worth it! When ordering a pair, be sure to check out the correct size available to purchase using the link below. We recommend ordering a larger size as the size guide is for an Asian size which is usually 1 or 2 sizes smaller than a US size.
Overall we thought they were great for the price and would plan on buying more. With a rating of 3.7 out of 5 from over 100 reviews; you will have to try on a pair for yourself to see and feel the results.
Product Information: Voberry Mens Sexy Stripe.
Product Style: Briefs.
Product Material:
Size Available: Check available sizes via link above.
Design Color: Black/Blue/Purple/Green/Navy.
Rating: 3.7/5 (100+ Users).
Price: $